SEARCH OUR DATABASE OF PRESS RELEASES:
Meet Worldwide Who's Who member Roy A.E. Bakay, MD, Physician and Professor at the Rush University Medical Center in Chicago, Illinois. Dr. Bakay is the A. Watson Armour III and Sara Armour Presidential professor, vice chairman and residency research director of the departments of neurosurgery and pharmacology at Rush University Medical Center Chicago. He specializes in stereotactic and functional neurosurgery and is the leading authority on surgery for movement disorders. To learn more about Roy A.E. Bakay, MD, view his video and visit: http://www.drroybakay.com.
IN THE NEWS
Worldwide Who's Who® To Release 16th Edition of Hardcover Registry
Latest Edition Boasts an Attractive New Layout for Enhanced Readability and Enjoyment
Thursday, November 30, 2023
Our entire team here at Worldwide Who's Who is proud to announce the release of the latest version of our Hardcover Registry. Now in its 16th edition, the comprehensive publication contains biographical and contact information for more than 16,000 members. Split into three major sections, it commemorates individuals with the Executive, Professional and Entrepreneur (EPE),VIP and Honored Member distinctions.
In an effort to enhance the final product, our editorial and production departments integrated fresh layouts for the member features. They also improved upon the font types and sizes, giving the book a cleaner and crisper overall design as compared to previous versions. Through these various enhancements, the newest edition of the Hardcover Registry is much easier to peruse and enjoy.
Many thanks go out to the dedicated management and staff who contributed to the completion of the 15th Edition, which ships later this month. This includes graphic designers Matthew Gianturco and Deb Marmurowski; copy editors David Benedetto, Danielle Blanchard, Erica Bookstaver, Sarah Faup, Elizabeth Flynn, Clifford Morrissey and Felicia Zorin; and proofreaders Amy Fisher, Anna Lacson, Katie Rogers and Marshall Whitefield. In addition, we would like to specially commend Kristen Giani, director of proofreading; Elaine Joseph, director of production and graphic design; and Reneé Dutcher-Pryer, director of process development, implementation and branding, for their outstanding leadership and contributions to this project.
If you are interested in being listed in the upcoming edition of the Worldwide Who's Who Hardcover Registry or you have any questions, concerns or suggestions regarding this product, please e-mail theregistry@worldwidewhoswho.com or call us toll-free at (866) 933-1555.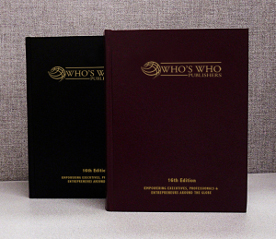 Hardcover Registry